Arts and Sciences
Central to a Liberal Arts Institution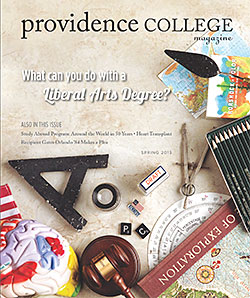 The School of Arts & Sciences is committed to fostering academic excellence through undergraduate and graduate studies in a broad range of academic areas in the fine arts, humanities, social sciences, and natural sciences. As the home of these academic programs, the School of Arts & Sciences is central to Providence College's mission and identity as a liberal arts institution.
What Can You do with a Liberal Arts Degree?
A lot! A degree in the liberal arts is valuable preparation for the workforce. The Association of American Colleges & Universities has prepared a report detailing the value employers see in a background in the liberal arts, as preparation for both entry-level positions and future career advancement.
This edition of Providence College Magazine (.pdf – you will need Adobe Acrobat to view this) highlights five successful alumni whose career paths have been shaped by Providence College's liberal arts education. In addition, Dr. Vance Morgan, former director of the Development of Western Civilization Program, writes a passionate essay about the benefits of the liberal arts.